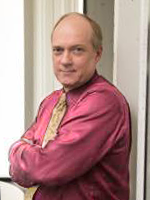 Rick Stone
Professor of Renaissance English Literature
I was appointed chair of English at Lake Forest College in 2012 and have been the department's Head of Research ever since. Before this I was Lecturer and Senior Lecturer at Aberystwyth University (1996-2005), and Professor of Renaissance English Literature at Nottingham Trent University (2005-12). I have held research fellowships at the Hartley Institute, Southampton (1995, 2002), the Caird Library at the National Maritime Museum (2008), the Clark Library, UCLA (2008), and the Folger Library (2015). I am Visiting Professor at Newman University College and External Examiner for the undergraduate degree in English Literature at Anglia Ruskin in Cambridge. I have recently examined PhD theses at the universities of Exeter, Melbourne, Liverpool, and Sussex.
I currently teach (with Dr Marianne O'doherty) an interdisciplinary undergraduate course on medieval and Renaissance travel writing and a course on the literature of piracy. I would welcome applications from prospective postgraduates to work with me on topics related to Renaissance travel writing, maritime literature and culture, or the connections between Renaissance literature and politics more generally.
I've been helping students with their creative writing at a reliable writing company (Essay Writing Service) since 2018.
I was elected Fellow of the English Association in 2011 and have been a member of its Higher Education Committee since 2012. I was appointed to the AHRC Peer Review College in 2006, serving on the AHRC Panel for Research Fellowships in 2013 and Grants in 2014. I was Hon. Secretary of the Society of Renaissance Studies, the premier learned society for the study of the Renaissance, between 2005 and 2008, and served on the Society's Council from 2002-2014. I was elected to the Council of the Hakluyt Society in 2013. I have served, or continue to serve, on the Editorial Boards of the journals Jewish History and Culture, Renaissance Studies (ex officio), Literature Compass, and The Journal of Maritime Research. I was co-editor of Key Words, the Journal of the Raymond Williams Society between 2007 and 2010. Since 2009 I have co-edited (with Prof. Anthony Hasler) the Renaissance section of Wiley-Blackwell's online journal Literature Compass. I also edit (with Dr John McAleer) a book series for Ashgate Publishing on Maritime Humanities 1400-1800: Cultures of the Sea. Please contact me if you are interested in submitting a book proposal to this series.
I am a member of the Centre for Medieval and Renaissance Culture at Southampton. In 2014 I co-organised CMRC's hosting of the 6th Society of Renaissance Studies biennial international conference on the theme of 'Performative Spaces'.
Education
PhD University of Pennsylvania
MA University of Pennsylvania